Profile
They lead a Dangerous Life.... in a Zombie-infested Nation once-known as the Lion City, where Love Is Stranger than lust. These brazen homegrown Hellspawns really Ain't Missin' That Much, even when one of them they had to Let Her Go; for as long as they've endured the harsh and harrowing reality of being Born-To-Be-Blamed in a barren, desolate waste-land built on isolation, separation, corruption, guilt, anguish and fear, they knew that they would never be able to achieve their objectives nor attain their burning life-long ambition in a Slow-Me-Down fashion; more so when you're a livid and wily, haggard-looking bunch of ragged n' razed; socially disaffected, desensitized Dead Men Walking; surviving on junk food menus and a primal gut-instinct, with little aversion to the most squalid conditions; relying on whatever they could to stay alive and ahead without succumbing to the mass-state of infection as the vile, overpowering stench of decomposed flesh and the voracious appetites of the undead began the extinguishing of freedom, and subversion of "The Truth".... All they had envisioned was a series of fun-filled nights out-on-the-town, getting high on Drugs N' Kisses. Instead, they wound up having to remove, retaliate and destroy the very people they had once befriended, believed and trusted. Be careful what you wish for, lest you are willing my dear friends, to Shake Well Before Abuse....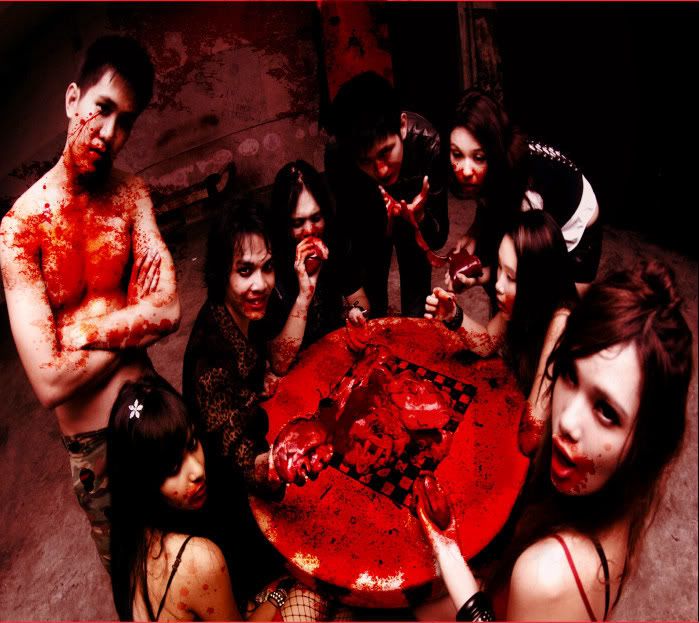 LISTEN TO
SHAKE WELL BEFORE ABUSE
IN IT'S ENTIRETY:
<object classid="denied:denied:denied:denied:denied:clsid:d27cdb6e-ae6d-11cf-96b8-444553540000" height="415" width="434"> </object>

"If you hanker for good old '80s-style metal and hard rock, Suicide Solution is the band for you. These guys have been around a long time but still have electric stage presence." - TimeOut Singapore
"As one of the last true metal acts, watching these dudes named after an Ozzy Osbourne song play their bulldozing metal also promises a show replete with flailing locks. That's almost as good as fireworks". - Junk Magazine
"With albums dating as far back as 1998, this rock 'n' roll band has re-emerged with their honest lyrics and mind-blowing guitar licks. Not only is Suicide Solution a great listen but they are also a fantastic live act. Anyone who appreciates old school rock 'n' roll will truly enjoy them" - Esplanade Youths
"Suicide Solution is a living testimonial of perseverance and determination. With the perfect essence of Hard Rock-Heavy Metal leanings, not many have merged these two genres with such sincerity and conviction. Trendy bands may come and go, but Suicide Solution is definitely here to stay."
- Calvin Chiang, Pulverised Records
"Suicide Solution is one of Singapore's longest-lasting Metal / Hard Rock bands that maintain a sense of integrity as they deliver heavy riffs and catchy choruses. "Shake Well Before Abuse" is their best album to date, showcasing the maturity of the band and a professional veneer of their work."
- Mike Priest, Absence Of The Sacred, Impiety
"Suicide Solution's music is honest and in-your-face, what you get is what you see...The music is genuine and speaks directly of the character of the band."
- Penny Torture, Psycho, Live! Magazine
"They are really tight, flaunt impressive lead guitar chops and overall musicianship, and play well-crafted songs with great melodies, catchy choruses and the occasional zombie-themed lyric. It's music that's fun."
- Daniel Sassoon, In Each Hand A Cutlass, Electrico
"One of Singapore's most respected names on the underground metal circuit"

- Garry Sharpe-Young, Rockdetector.com

Suicide Solution Band Correspondence: Joe Suicide - joe.ferdinands@gmail.com
Suicide Solution Booking And Events: Rachel Foo - rachelfye@gmail.com
-
Sounds Like:
SHAKE WELL BEFORE ABUSE available
exclusively at the following fine retail outlets in Singapore:
THE ESPLANADE SHOP
02-02, The Esplanade theatres on the bay
HELL'S LABYRINTH METAL STORE
04-14, Peninsula Shopping Center
INOKII
03-03, Far East Plaza
ROXY RECORDS & TRADING
02-15, Excelsior Shopping Center

-
Click here to buy Shake Well Before Abuse online at:
PULVERISED RECORDS' eBAY STORE
http://stores.shop.ebay.com.sg/Pulverised-Records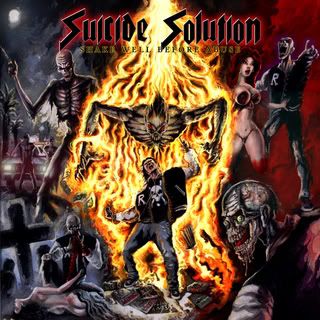 Shake Well Before Abuse, 2009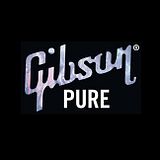 JOE SUICIDE AND EVIGAN X.
ARE SUPPORTED BY GIBSON GUITARS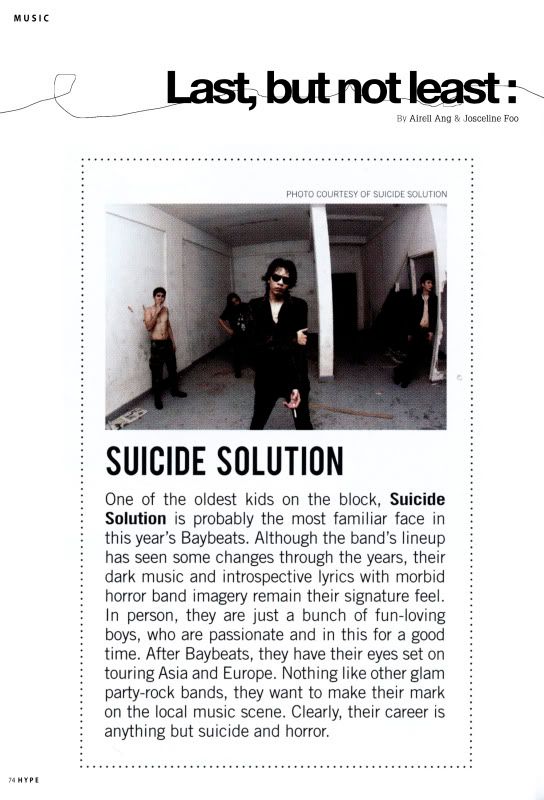 "It's The Wrong Way To The Top, If You Wanna Rock n' Roll"
Influences
Black Sabbath, Ozzy Osbourne, Alice Cooper, AC/DC, Kiss, Motorhead, Iron Maiden, Guns N' Roses, Danzig, Misfits, Megadeth, Metallica, Anthrax, Slayer, Testament, Exodus