Profile
****READ THIS BEFORE ADDING ME FUCKER!!!!!!!****
MY NAME IS RAZAKEL, BEEN RAPPING FOR ABOUT A YEAR, BEEN WRITING ALL MY LIFE. I'M SIGNED TO A LABEL HERE IN NEW MEXICO/505 -SERIAL KILLIN RECORDS- BEFORE THAT I WAS FOUND AND PRODUCED BY ANOTHER LABEL HERE IN THE 505-SADIZITK PRODUCTIONZ. THINGS HAVE GOTTEN PRETTY CRAZY THIS PAST YEAR, I STARTED RAPPING IN JANURAY OF 2006, I COLLABED WITH EVERYONE AND THIER MOTHER, I GOT SIGNED TO SKR IN AUGUST, FIRST SHOW ALMOST RIGHT AFTER THAT IN DENVER, AND THE BALL HAS NOT STOPPED ROLLING SINCE. I UNDERSTAND THAT THIS GENRE IS NOT SO EASY ESPECIALLY FOR A BXTCH-BUT I AM GROUNDED AND I CAN HOLD MY OWN. POPULARITY IS NOT THE KEY, FAME IS NOT THE KEY, MONEY IS NOT THE KEY....I JUST WANT TO DO WHAT I WANT TO DO AND IF SOME OF YOU FUCKERS DIG WHAT I'M DOIN'....SHIT THATS KOOL:) AS CRAZY AND AS FAST THIS RAZAKEL BALL HAS BEEN MOVING, I WILL NEVER FORGET MY ROOTS, MY HOMIES, WHO HAVE BEEN THERE, AND HELP LIGHT THE WAY... I AM CURRENTLY WORKING ON MY EP THAT WILL DROP NEXT YEAR. THERE WILL BE ABOUT 9 TRACKS AND ITS NOT GONNA BE SUPER EXPENSIVE, WHEN DETAILS ARE FIGURED OUT I WILL LET THE WHOLE WORLD KNOW;) MUCH LOVE TO ALL OF YOU-I HOPE YOU ALL FIND SUMTHING YOU LIKE:)-RAZ
:AHEM: AND TO ALL YOU BXTCH RAPPERS THAT HATE ME BUT WISH TO BE ME-STEP DOWN- CUZ YOU'RE JUST AS FAKE AS YOUR TALENT;) HAPPY BIRTHDAY!!! -RAZAKILLA



***BLOOD TURN BLACK AND FLESH TURN BLUE***

***EVIL FROM ME AND BACK TO YOU***

*** BLOOD GO BLACK AND FLESH GO BLUE***

***BY THE LEFT HAND I NOW CURSE YOU***




*WILL YOU DO ME A FAVOR???? KILL YOURSELF*

*THERES NOTHING LEFT-SO JUST KILL YOURSELF*




Profile fixed up by Durdy.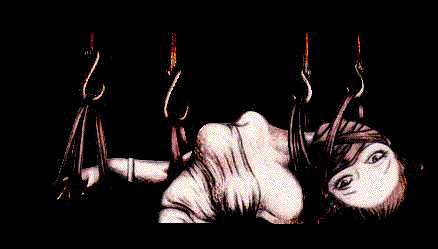 I LIKE TO DO PRETTY THINGS LIKE HANG FROM HOOKS AND SWING FROM TIME TO TIME. :)
HOOKS. BLOOD. PRETTY.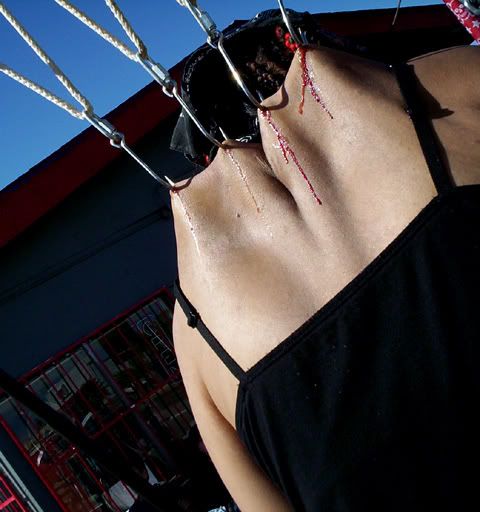 THE ONLY PLACE ALLOWED TO INK, STAB, BURN, CUT, SCAR, & HANG ME:

Sounds Like:
THE ONLY BXTCH THAT CAN ACTUALLY RAP;)
Influences
My MAIN fucking musical influence, the fucking MEANING of HORRORCORE and in MY eyes, my HORRORCORE GODS-and if you DON'T know of them-then you DON'T know SHIT son! and then the NEW BREED of cuking horrorcore MENTAL WARD, i JUST met these guys and i consider them close homies already, BIG things are gonna happen for us this year boys;) and i cannot fucking WAIT to share a stage with you...and this year it WILL HAPPEN!!!!! Horror Movies, Violence, Gore and a splash of FUCKING ...MISS BXTCH (for creating the poetry that FUCKS me). DEADJUGG/FUCK (for confidence, demented thots, open ears and so much MORE). SERIAL KILLIN RECORDS-for signing me and having faith in what i do-thank u so much, this means the world to me. My little brother Mikey Zero for sticking by my side no matter what. THAT KILLA of Sadiztik Productionz for pretty much making me feel like family:) AND OF COURSE....my Mom, Dad, and my older brother for NEVER ONCE believing IN me... AND ALL THE FUCKING HATERS FOR ALL THE INSPIRATION TO GIMME CONSTANT IDEAS..YOU ALL DIE IN MY MUZIK YOU STUPID FUX! :)-thank you all, words can't even begin to express my gratitude...