Location:
Budapest,
Budapest,
Hungary
Account Status: Premium Member
Member Since: May 23, 2006
Logged In: Mar 04, 2017, 01:03pm
Profile
/about SERVO.HATRED:
servo.hatred is a hungarian darkelectro/terror band from budapest.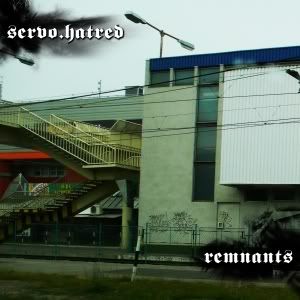 download the "remnants" EP from here:
http://www.megaupload.com/?d=8WHG5HQM
or click on the pic above
2005 - servo.hatred was officially born. This was the year when servo.hatred gradually transformed from a powernoise project to a darkelectro band.
2006 - practicing, practicing, learning the basics, writing "standard" darkelectro tracks while experimenting with other styles. first release on BLC Record's Interbreeding 8 compilation. ven joined servo.hatred as live keyboardist. in july servo.hatred played it's debut show at one of the best venues in Budapest (A38 boat), opening for Combichrist. More gigs followed throughout the year. This year also brought a change in servo.hatred's style: the new material was not club oriented, but a fusion of some aggressive electronic genres.
2007 - servo.hatred started working on the first demo/album, and ditched most of the old material in favour of the new, better sound. in may, they opened for Psyclon Nine, and in september they played before Gothika. servo.hatred contributed to two more compilations in the first half of 2007: FxxK The mainstream released on Alfa-Matrix, and Electro Arc Vol I (with a collaboration with Consectum). Simon of servo.hatred also got his certificate in sound engineering, and started to expand the home studio. Due to technical issues the completion of the demo is postponed, but will be finished later this year hopefully. servo.hatred is also working on a new live setup with more gear and new tracks.
/band members:
Simon M /everything Ven /live synths
/support SERVO.HATRED:
/Add SERVO.HATRED to your BANDS LIST
/Add a servo.hatred banner to your profile:
(copy and paste the code below)

----------------------------------------------------
---------------------------------------------------
--------------------------------------------------
Sounds Like:
/it's just your corner of visions, scrathes all over the wall. but why do your nails bleed?
Influences
/this black mess and the grey skies /other bands: deathboy, hocico, cyberphilia2020, psyclon nine, consectum, angerfist, dulce liquido, suicide commando, censor