Mar 30, 2017, 10:19pm
Interview with Hiraeth
Posts: 21
forum
➔
VF Content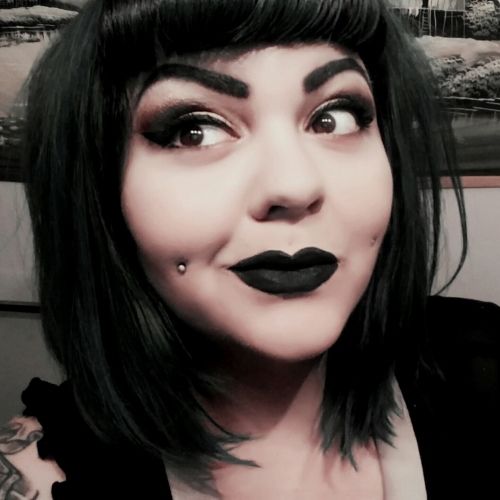 When did you join VampireFreaks?

My very first account was when I was in grade 9. During lunch break, someone had mentioned it to me because I was wearing a Marilyn Manson shirt. She asked if I had ever heard of it and recommended I make a profile. She said she was a part of a Marilyn Manson cult - keep in mind, I had no idea what "cults" were, so this statement made me feel wary, but still intrigued enough to check the site out. I'm not going to lie, the mystery was a huge part of the appeal.

What inspired you to create a VampireFreaks?
After being introduced to it, seeing all of the bands and the potential community I could be involved in, I just went for it. No real inspiration aside from the fact that I felt like I could identify with this group of people and possibly make new friends who liked the same things as I did. I wasn't popular in high school, didn't have many friends, so a website where I could be socially accepted for who I was really appealed to me.

What is your favorite thing about VampireFreaks?
The diversity. I mean, yes, we're all somewhat a part of the same subculture, but what I like most about the community is how different everyone is. You can meet so many different kinds of people who have all different kinds of professions.

What is your favorite Cult on VampireFreaks, and why?
This is difficult to answer. I become a member of cults for different reasons. I've been a member of GameStop for the longest period of time. As the name suggests, it's for people who like games, anyone from casual gamers to hardcore/competitive players. I've met quite a few really sweet and caring people there. I'm very thankful for cults like Cynosure and VFLayouts - they're stock full of resources and the staff is incredibly helpful. A fairly new one that I've very fond if is BabyBats. I co-own this cult, so maybe I'm biased. It's fashion based, so clearly, right up my alley. It serves as fashion/beauty inspiration, members can post their own outfits, as well as all of the inspiration they draw from.

What's your favorite genre of music?
I'm torn! As much as I love old punk, I do very much like a lot of metal bands. I say this very generally because there are so many subdivisions of genres that it makes my head spin. And I know what you're thinking, "but Jennie, you're goth!" Yeah, I identify as goth, and I do listen to some goth music, but nothing rings quite true like a quick snare beat and aggressive guitar riff. Some of my favorite bands include (in no particular order): Black Flag, Minor Threat, Bad Brains, Ghost, Amon Amarth, The Misfits, Acid Bath, Opeth, Bauhaus, Against All Authority, The Smiths, The Devotchkas, Leftover Crack, Choking Victim, Operation Ivy, GWAR, Dayglo Abortions, Fugazi, Rancid, Jack Off Jill, L7, NOFX, The Pixies, Siouxsie and the Banshees, Teenage Bottlerocket, Subb, VNV Nation, White Zombie

Outside of VampireFreaks, what things in life do you enjoy most?
If there's a way I can create art, I'm totally into it. I love taking photos, but it's more so a past time or hobby than anything serious. I dabble in abstract painting and sketches. I generally draw out my ideas for fashion items. I live in a very beautiful area so I try and enjoy nature with hiking/walking trails. I enjoy playing video games, though admittedly, I'm not very good. I collect some pretty weird stuff, too. I mean, figures and comic books aren't that weird but I also collect taxidermy.



What would you classify your clothing style as?
This is tricky because I take inspiration from all over the alternative spectrum. I'd say it's mostly "goth", but there are always days where it's either more punk or pin up inspired. As a designer, I try not to fit myself into a style box. If I like it, I will wear it, no matter what. I wear things that make me more comfortable in the body I live in and I feel like that's how clothes should make you feel. Not only can you express yourself, but it should make you feel good and empower your true self.

What inspired you to become a fashion designer?
I've always been on the "larger" side of the size spectrum. It's difficult finding clothing for plus sizes that are fashionable and reasonably priced. I've always been quite hands on and preferred to make things myself, so I took the initiative to make things that I wanted to wear. This started as just cutting shirts up to make them fit better or add safety pins or patches to a pair of pants. From there, I received a sewing machine as a birthday gift and I began my full garment creation adventure. I fell in love. It was more than just making something pretty, it was clothing problem solving. It blossomed into something that is unexplainable. It helped me become more comfortable in my skin - which is what inspired me to start a clothing line and make clothing for a wider audience. I wanted to prove that everyone can feel great in what they wear, regardless of what size the tag read.

What was the first clothing item you ever created?
When I was little, I would make clothing for my dolls. This would consist of just wrapping them in a square of material and tie a ribbon around their waist. I guess, maybe that's where it started. The first ever "wearable" piece I made was a skirt. The the time, my dad was getting rid of a few pairs of jeans he didn't want anymore, so I reused them. I cut them up - in all different kinds of shapes and then I sewed them together. Denim has two sides, so I would flip them over to have it patterned dark and light patches. This resulted in a very patchwork kind of style skirt. Its as hideous to say the least, but I loved the hell out of it. After putting it in the wash, the edges of the denim pieces frayed like no body's business and it made it look even worse, but somehow better.

What advice would you give others that are aspiring to be a fashion designer?
JUST. DO. IT. Explore all aspects of it. There are a lot of resources online that you can take advantage of. Visit a library and see what kind of fashion books they offer. Despite popular opinion, you don't need to go to school to learn how to fabricate garments. Go to the thrift store and find some cheap clothing in your size. Take them apart just to see how they are constructed. Practice and patience will get you far with anything you're interested in. I'm always open to answering questions, too, so feel free to reach out to me!

What are some of your favorite outfits you've created?
I don't know if I have a favorite full outfit, but I do have quite a few favored individual pieces. I make a wide variety of things, including jewelry and accessories. It's really hard to pick, though, it's like picking your favorite child. You know how much care and passion went into making them so they're all special in their own way.




What other designers do you look to for inspiration?
I don't generally follow other designers, at least none immediately come to mind. I draw a lot of my inspiration from characters in movies, video games, and graphic novels. I follow a small group of YouTube channels that have given me some inspiration, but more so in the field of DIY and modification than clothing design. Scrolling through Instagram, Tumblr and Pinterest can inspire me, too. I follow so many other creative people that it bleeds through the feed.

If you had unlimited funds, what sort of things would you create?
Undoubtedly, I would design shoes! They're probably my favorite kind of accessory and can really pull an outfit together. I have notebooks full of shoe sketches in hopes that one day it will happen. I'd love to have my own physical store. I actually have this weird fascination of it being a combination tattoo shop/bar/clothing store. I could host fashion shows, artist galleries and even have bands play.



What's your life's dream?
My life's dream is to continually accomplish everything I set out to do - whether that be with fashion or art. I have so many different goals that I work towards that it's difficult to pick just one and say "that's what I want". I want all of the things. I want to continuously learn and improve with my work and my personal life. Even if my clothing line isn't deemed "successful", I still work really hard to get it where it is and that makes me proud. Just taking the chance to do something is worth it.
Posts: 68
Posts: 11
forum
➔
VF Content