Profile
Described as David Bowie meets Trent Reznor for the first time at a Door's concert. Euphonic Dissonance employ hardware and software instruments to channel the zeitgeist in a hybrid sonic tapestry assembled from elements of rock (classic, gothic, and indy) and electronic dance (idm, breaks, and techno).
Euphonic Dissonance write original crossover music mixing electric and acoustic instruments with computer based ones to create their dark industrial electronic rock. A sound wall of roaring tectonic basslines - dark words reinforcing progressive synthesis.
ENTER THE TECH MESSIAH
If you want a picture of the future, imagine a boot stamping on a human face� forever. - George Orwell - 1984
Brian Copeland and Sarah Star are working hard to bring their post apocalyptic world of the TECH MESSIAH to life on stages across America. A vision of a society that freely gives itself over to control by technology. THE WORSHIP OF TECHNOLOGY! A lesson in control and slavery. A warning about the power of religion. The TECH MESSIAH will soon come to life and evolve before your eyes. We welcome you to join us as we create the realm of the TECH MESSIAH.
TECH MESSIAH ORIGINS STORY
The TECH MESSIAH concept was introduced to us by our friend Brad Jennings. He introduced the idea of people worshiping or praying to their electronic devices (pda, mp3 player, iPhone, etc).
Brian tells us what happened next: "I couldn't stop dwelling on the conversation. So many of us run to buy the newest devices when they are released (Apple iPhone for example). We might even get a little angry if we don't get exactly what we want when we want it. We might take time out of our busy day to spend an allotted amount of time with our favorite electronic gadget. We admire the device as we push the buttons and tweak the knobs. Is this our ELECTRONIC HOUR OF PRAYER? Could this be a form of worship and is it possible that people would want to be controlled if they were kept happy and content with NEW TIME SAVING DEVICES - MORE MIND WASTING ACTIVITIES? Is it possible it's already happening and we're currently being controlled? Anything's possible."
Now, combine that with every apocalypse movie I've ever seen (which is like all of them!!!) and we have the TECH MESSIAH PROJECT. A futuristic world that is already controlled by SOLID STATE RELIGION. Messages of control beamed over radio and drilled directly into minds. You're willing to risk a BRAIN TUMOR using your cell phone every single day - who's to say you wouldn't give over control of your life to TECHNOLOGY YOU KNOW AND TRUST."
sony,KNOW AND TRUST,samsung,KNOW AND TRUST,hewlett-packard,KNOW AND TRUST,hitachi,KNOW AND TRUST,ibm,KNOW AND TRUST,nokia,KNOW AND TRUST,dell,KNOW AND TRUST,microsoft,KNOW AND TRUST,nec,KNOW AND TRUST,canon,KNOW AND TRUST,apple,KNOW AND TRUST,cisco,KNOW AND TRUST,intel,KNOW AND TRUST,motorola,KNOW AND TRUST,accenture,KNOW AND TRUST,oracle,KNOW AND TRUST,google.
More and more I see religion being used as a method to control an agenda. It's always been a tool used by people to control the masses but lately it has become far more prominent a tool than I can remember in my lifetime. In the past the prominence of religious control always seems to go hand in hand with great religious abuses of power and I wonder if it is possible to have religion holding great power in a society and still have that power act in a responsible and ethical way. - from article USING RELIGION TO CONTROL OTHERS
EXCERPT FROM TECH MESSIAH
How much time do you devote in your day to prayer unto your false gods? You cannot lie to us and say that you would never do such things. We�ve been watching you. You spend hours worshipping your computer. You decorate your myspace to appease vanity. You seek solace in your cell phone. You take pride in your car. You boast about the size of your television. You wear your thumb drive like jewelry. On a necklace for all to see. You are accused of being a follower of the TECH MESSIAH. You are accused of telling others of this false religion. Don�t try to deny the accusations. Is it not you that preaches almost daily to your friends and family on the benefits of owning an Apple? Was it not you that texted your entire friend list letting them know when you bought the new cell phone? Did you not invite your buddies over to watch the Super Bowl when Best Buy delivered your plasma television? You infect everyone you come in contact with. You fill their heads with dreams of heaven on earth. Salvation at the touch of a button. The washing away of all sin beeming forth from a sequence of lights and glowing bulbs.
Get all of your ED gear here...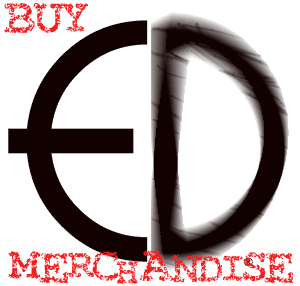 Sounds Like:
avenged sevenfold, shiny toy guns, Peter Murphy, P J Harvey, David Bowie, System Of A Down, Ministry, Pink Floyd, Linkin Park, Aphex Twin, Mr. Bungle, Kate Bush, The Beatles, John Lennon, Nirvana, The Police, Sting, Peter Gabriel, Gorillaz, Genesis (w/ Peter Gabriel), Johhny Cash, Cypress Hill, The Cure, Jethro Tull, Korn, Sex Pistols, Tool, Faith No More, The Wallflowers, Rage Against The Machine, Brian Eno, M83, Rasputina, Bjork, Rush, Clara Rockmore, Bach, Radiohead, Wendy Carlos, iMOGEN HEAP, Pixies, Postal Service, Suzanne Vega, Eurythmics, Living Colour, Violent Femmes, Oingo Boingo, Audioslave, arcade fire, outkast, throbbing gristle, sneaker pimps, death cab for cutie, a.f.i., paramore, panic at the disco, weezer, my chemical romance, rammstein, powerman 5000, celldweller, marilyn manson, kmfdm, revolting cocks, static x, filter, nitzer ebb, mindless self indulgence, mdfmk, machines of loving grace, kidney thieves, front line assembly, pigface, orgy, dead or alive, puscifer, skinny puppy, snake river conspiracy, stabbing westward, tweaker, coil, vast, rob zombie, white zombie
Influences
avenged sevenfold, shiny toy guns, Peter Murphy, P J Harvey, David Bowie, System Of A Down, Ministry, Boomkat, Pink Floyd, Linkin Park, Aphex Twin, Mr. Bungle, They Might Be Giants, Kate Bush, The Beatles, John Lennon, Beastie Boys, Gordon Lightfoot, Nirvana, The Police, Sting, Don Williams, Chick Corea, Peter Gabriel, Gorillaz, Paul Simon, Simon &; Garfunkel, Genesis (w/ Peter Gabriel), Johhny Cash, Cypress Hill, The Cure, Jethro Tull, Korn, Sex Pistols, Tool, Faith No More, The Wallflowers, Rage Against The Machine, Mozart, Brian Eno, M83, Rasputina, Niacin, Bjork, Rush, Herbie Hancock, Clara Rockmore, Bach, Radiohead, Wendy Carlos, iMOGEN HEAP, Pixies, Postal Service, Suzanne Vega, Eurythmics, Living Colour, Violent Femmes, Buddy Holly, John Denver, XTC, Oingo Boingo, Audioslave, Arrested Development, arcade fire, outkast, throbbing gristle, sneaker pimps, death cab for cutie, paramore, panic at the disco, weezer, my chemical romance, rammstein, powerman 5000, celldweller, marilyn manson, kmfdm, revolting cocks, static x, filter, nitzer ebb, mindless self indulgence, mdfmk, machines of loving grace, kidney thieves, front line assembly, pigface, orgy, dead or alive, puscifer, skinny puppy, snake river conspiracy, stabbing westward, tweaker, coil, vast, rob zombie, white zombie