Sex: female
Age: 26
Location:
A whacky Broadway nightmare,
Some kid's Head,
Canada
Account Status: Free Account
Member Since: February 01, 2006
Logged In: Jun 15, 2014, 08:50pm
Relationship Status: In a relationship
Sexual Orientation: Pansexual
Occupation: Cynical coffee drinker
Profile

I dont know how to put this but... I`m kind of a big deal. People know me. I`m very important. I have many leather bound books and my apartment smells... of rich mahogany... *Drifts off*
Hi, I'm dorkybubbleshorts and I live in a wacky Broadway nightmare.If you get this reference, then good for you.
I'm hormonally challenged.
I almost never come onto VF anymore </3.<br /> My man name is Peter. BUT it can only be said in a British accent.
No one can pull off a tutu like I can.
I might as well be imaginary.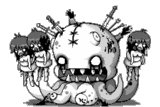 Favorite Music
Gorillaz, David Bowie, the Dresden Dolls, The Red Hot Chili Peppers, the Black Dahlia Murder, Leftover Crack,Eyedea and Abilities, Tyler the Creator, Earl Sweatshirt, The Beatles, Jack off Jill, Disney Soundtracks, Etta James, Queen, Immortal Technique,The Creepshow, Fiona Apple, Mr.Suicide Sheep, Imogen Heap/FrouFrou, Bad Brains, Sublime, Black Flag, the Gits, Lady Gaga, Mindless Self Indulgence, Spinnerette, Patti Smith, Frank Sinatra,Choking Victim, Angelspit, Danny Elfman, Emilie Autumn, Foreigner, Jimi Hendrix, Ella Fitzgerald, Bat for Lashes, GBH, Babes in Toyland, Nekromantix, Lydia Lunch, Horror Pops, Blitzkid, Maximum the Hormone,Rancid, Lowerclass Brats, Tom Waits, The Spice Girls, The Birthday Massacre,Placebo, Dead Kennedy's, The Offspring, Sammy Davis Jr., The Distillers, Alice in Videoland, the Cramps, Tiger Army, Ayria, System of a down, Blue Foundation, Marina and the Diamonds, Ludacris, Aqua, Peaches, Nirvana, Parliament, Nightwish, Metallica,Shiny Toy Guns, Avenged Sevenfold, Rob Zombie, Big D and the Kids Table, Municipal Waste, Cockney Rejects,Cyprus Hill, Rammstein, Collide, Rasputina, Helalyn Flowers, Blondie, White Chapel, Dimmur Borgia, Nina Kitade, Lacuna Coil, Emily Haines, Combichrist, , The Presets, She Wants Revenge, Technikult of Flesh, The Proclaimers, A Perfect Circle.