Sex: female
Age: 31
Location:
Fort Stupid,
Illinois,
United States
Account Status: Premium Member
Member Since: June 28, 2010
Logged In: Jan 02, 2017, 01:26am
Relationship Status: In a relationship
Sexual Orientation: Asexual
Occupation: Intelligence Professional Second to None |||MI|||
Profile
The Musicians Who Have Influenced Me
Auran Tripp, Omega Lithium, Sean Brennan (London After Midnight), LORE, Within Temptation and Most of all David Bowie (My all time Hero).
Musical Preferences
I love a variety of music ranging in different dialects to include: Francaise, Deutsch, Arabic, Na Gaeilge, and Japanese. Only to name a few of them. I am interested in the music of many cultures! If you have suggestions comment me!




Don't forget to check out INK DOT BOY, he's here on VF: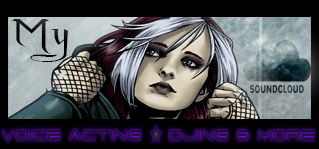 The Rogue Darkstar Show
The Rogue DarkStar Show Live on Dark Star Radio! This Show will be entertaining, Nerdy and full of music and genre/location will vary on SL. All kinds nerdy topics will be brought up for discussion from video games, Fandoms to whatever else the Stomptroopers (Radio Listeners) suggest. www.darkstarradio.com
http://tunein.com/radio/Dark-Star-Radio-s262013/
Let's Help The Music Stay On by making a Donation today!
<form action="https://www.paypal.com/cgi-bin/webscr" method="post" target="_top">
</form>
Monday
.✫.TBD COMING SOON.✫
Tuesday
.✫.TBD COMING SOON.✫
Wednesday
.✫.TBD COMING SOON.✫
Thursday
.✫.TBD COMING SOON.✫
FRIDAY
.✫.TBD COMING SOON.✫
Saturday
.✫.TBD COMING SOON.✫
Sunday
.✫.TBD COMING SOON.✫
Due to a new occupation. My Radio schedule is To Be Determined. Watch FaceBook, Twitter, Google+, & VampireFreaks for pop up sets! You can also catch my recorded sets on MixCloud!
<form action="https://www.paypal.com/cgi-bin/webscr" method="post" target="_top">
</form>
Layout © Jessika_Darkstar | Looks best in Firefox/Chrome/RockMelt with Premium Membership