Profile
MIDNIGHT SYNDICATE GOTHIC HORROR SOUNDTRACKS
The night beckons you . . .

As Midnight Syndicate, dark music pioneers Edward Douglas and Gavin Goszka have been producing Halloween music and gothic, fantasy, horror soundtracks for the imagination for over fourteen years. The standard for Halloween, Haunted Attractions, and role-playing games, their CDs are designed to take you to the darkest and most fantastic corners of your imagination. So dim the lights and journey forth . . . if you dare.


NEWS
PREVIEW TRACK FROM ZOMBIES!!! SOUNDTRACK POSTED. PRE-ORDERS BEING TAKEN!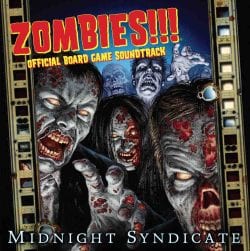 The first preview track from the upcoming Zombies!!! Board Game Soundtrack has been posted on the Midnight Syndicate YouTube Channel. The track, Slight Miscalculation, is named after one of the playing cards in the Zombies!!! game which is celebrating its 15th anniversary this year. Pre-orders for the album are being taken at the Midnight Syndicate Shop. Pre-orders will ship from Cleveland, Ohio on September 2nd. The album will be available digitally on September 8th.

NEW GOTHIC CHRISTMAS ALBUM, CHRISTMAS: A GHOSTLY GATHERING NOW AVAILABLE. PREVIEW TRACKS POSTED.



Midnight Syndicate's new haunted, Yuletide-inspired, dark instrumental album, Christmas: A Ghostly Gathering, is now available on iTunes, CDBaby, Amazon MP3, and the Midnight Syndicate Store (where all orders receive a limited edition set of three Midnight Syndicate holiday postcards while supplies last). The response to the new album has been absolutely amazing. If you'd like to hear what some fans and press are already calling a Midnight Syndicate masterwork, check out these four preview tracks: Night of the Krampus, Up On The Housetop, Coventry Carol, Carol of the Bells, and Dance of the Sugar Plum Fairy on the Midnight Syndicate YouTube Channel.

The new album features the band's unique twist on classic holiday carols blended with new and original material. "Our goal was to treat each song in a way that would merge familiarity with originality," said Gavin Goszka. "There are definitely recognizable elements, but plenty of additional original material as well. It also incorporates the widest instrument palette we've used to date and represents what we consider to be the most varied collection of songs we've ever released. There are serenely beautiful moments here alongside more intense, darker tracks, and the end result is a thoroughly compelling and involving listening experience." "With so many Christmas-themed albums out there, we wanted to make this collection uniquely our own," added Edward Douglas. "I think we were able to do that."

OUT OF THE DARKNESS INCLUDED IN RUE MORGUE MAGAZINE'S 50 ESSENTIAL HORROR ALBUMS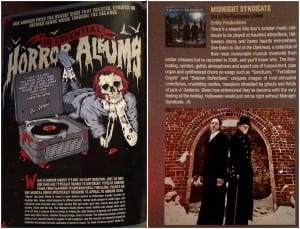 Midnight Syndicate's Out of the Darkness album was included in Rue Morgue's list of 50 Essential Horror Albums - Discs That Created, Evolved, or Defined Genre Music Over the Decades. "To be included in the same category as Black Sabbath, King Diamond, Alice Cooper, Blue Oyster Cult, John Carpenter and so many other horror music artists that inspired us is very special," said Edward Douglas.

MIDNIGHT SYNDICATE LIVE! UPDATE




In September of 2014, Midnight Syndicate Live! debuted at Cedar Point's HalloWeekends event. From the audience response, to the critical reception, to record-breaking attendance numbers, the show was an overwhelming success. Although the band will be using 2015 to focus on the new album, plans for a return of Midnight Syndicate Live! in 2016 are already underway. "The success of the inaugural run of Midnight Syndicate Live! has ensured that live Midnight Syndicate shows will be a permanent part of our plans going forward," said Douglas.


MONSTERS OF LEGEND WINS BEST CD IN 12TH ANNUAL RONDO AWARDS


Midnight Syndicate's Monsters of Legend CD has won the category for BEST CD in the 12th annual Rondo Hatton Classic Horror Awards. The Rondo Awards are a great honor in the horror industry and we appreciate everyone who voted! "Our goal with Monsters of Legend was to transport the listener into the world of classic horror," said Edward Douglas. "So to be recognized both by horror fans and an organization like the Rondos which is heavily rooted in classic horror movies, means a lot." "We really enjoyed being able to draw upon the classic horror scores, themes, and characters to create something uniquely our own," added Gavin Goszka. This award marks the second win for Midnight Syndicate. Â  The first came in 2011 when they won the BEST CD category for Carnival Arcane.

NEW MONSTERS OF LEGEND ALBUM UNLEASHED!




Midnight Syndicate's brand new CD, Monsters of Legend, is now available!!

A foreboding castle perched upon the cliffs looms over the mysterious village of Arcacia where monsters of legend roam its hillsides. Will you dare to venture forth? Inspired by classic horror cinema, this album features dark symphonic music blended with haunting sounds designed to send a chill up your spine. Close your eyes and journey back to the golden age of horror...

Order the CD or COLLECTOR'S EDITION 12" VINYL VERSION now!

Also available on iTunes

Preview It Lives!
Preview Carriage Ride
Preview Stone Guardians
Preview Lord of the Realm


Monsters of Legend has arrived! This "tribute to the golden age of horror" is inspired by horror films from the silent era, Universal Studios' horror classics, Hammer Films, and other European horror films of the 60s and 70s. It features sweeping symphonic horror instrumental music and sound effects in the signature style the band helped pioneer. "We want to make you feel like you are a character in one of those classic horror films - that you've entered a world where any one of those iconic Universal monsters could be right around the corner," said composer Edward Douglas. The CD artwork features original images from classic Universal Studios horror movies including Bride of Frankenstein, Werewolf of London, and Dracula.

Those classic horror films are at the core of what we do in Midnight Syndicate, so to do an entire disc based on them was a lot fun," added Douglas. "Musically it required us to use more traditional orchestral instruments, and use them in more ways than we have in the past. The result is a fuller orchestral sound with a heavy classical music influence. There are plenty of nods to James Bernard, Bernard Herrmann, and other early film composers." Although the band promises the new disc will deliver the dark atmosphere haunted house designers, roleplaying gamers, and Halloween music enthusiasts expect from them, they feel they've crafted a disc that transcends their favorite time of the year. "Like Carnival Arcane, we feel we've taken things up a notch both musically and with the sound design on this release," said Gavin Goszka. "There's a lot there to listen to and lose yourself in."

In addition to over 50 minutes of new music, the band went back into its archives and recreated several tracks from Born of the Night and Realm of Shadows, bringing the total runtime of the disc to over 65 minutes. "Both the new CD and those older releases are set in and around the mysterious hamlet of Arcacia. We felt it would be a great opportunity to breathe new life into a few hidden gems from those albums to help tell this story," said Douglas. For additional atmosphere the band called on voiceover artist Dick Terhune. "Dick's known throughout the haunted house industry as the "Voice from Hell," needless to say he was the perfect match for this disc," added Goskza.

The CD and a COLLECTOR'S EDITION 12" VINYL VERSION are available here. The album is also available through iTunes, Amazon.com, and will be available in select Halloween retailers beginning in August.



While you are at the Midnight Syndicate Store be sure to check out the Midnight Syndicate T-Shirt Section. We've added a new Midnight Syndicate Glow-In-The-Dark t-shirt as well as reprinted several of our most popular designs (available in sizes SMALL through XXXL).


Sounds Like:
Influences
Danny Elfman
John Carpenter
Wojciech Kilar
King Diamond
Black Sabbath
Dead Can Dance