Sex: female
Age: 34
Location:
Iowa,
United States
Account Status: Free Account
Member Since: February 23, 2009
Logged In: Jun 10, 2018, 09:13pm
Relationship Status: Widow
Sexual Orientation: Straight
Occupation: Licensed Esthetician and Makeup Artist
Profile
***BEFORE YOU MESSAGE ME, I DO NOT TALK TO MINORS!!! 18+ ONLY PLEASE!!! ***
Hi, My name is Mollie aka CherrieArabb. Maybe you want to know why I call myself that and I will just say this much...it was a bad choice A LONG time ago. Either way, I'm stuck with it. I guess you can all me Gothic but what I am. I am not claiming to be nice. In fact, I am a downright bitch at times. I don't answer every Inbox I get and sometimes I forget to return ratings.
I'm a writer, science freak, and a total Makeup Whore. I have just finished what will be my third book. If you want to know more about my books, please ask. Two are currently in publication on Lulu.com, "A Nobody from Iowa" and "Skin Deep". I'm a very open minded person and very approachable. I will talk to just about anyone about anything. I'm heavily inked, and a few extra holes in my body and I wear far too much makeup. Check out my gallery to check out my artwork. I will warn you though, I have to take my shirt off to show alot of it but thats because its on my upper half. I understand American Sign Language and I can use enough to get by. I am not deaf but I have friends that are. I am a certified gemologist although I haven't worked in a jewelry store in years. I continue renewing my certificate since it is an area of interest to me. I have editted my profile a bit but I would like to say that I go against the grain. If you dont like me, you better fucking tell me why. Don't be a coward.
Likes
My Mohawk, My eyes, piercings, tattoos, George Carlin, comedy in general, ROSES!!!!, LARPing (I play Vampire the Masquerade Toreador clan), Driving, CLEANING, riding the bus, walking places, window shopping, drawing, doing peoples hair, doing my makeup, making clothing, brass knuckles, yummy smelling soap, playing outside with my kid, silver jewelry, long hair on men camping, Ren Fairs, theatre, bargain hunting, my sable fur makeup brushes, people who put me down for being myself...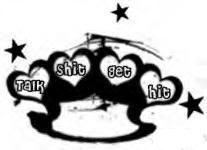 Dislikes
Dramaqueens, Liars, Beer (I am allergic), pedophiles, Emo/scene kids who think "My life is nothing but pain." Grow up., People that like showing off their genitals (and I mean in FULL to EVERYONE ALL THE TIME), Ear Pain, stepping on legos at 2 am when im half asleep, getting blood drawn, Realizing your friend has changed for a guy/girl, People that don't have a clue who Ozzy is, Not having money, Spending money on a concert ticket then getting really sick the day of it, eyebrow rings on myself (they dont look good on me),PHOTOSHOPPED PICTURES! (I don't use it and I refuse to unless its to change my eyes into alien eyes or to tweak a background.) coughing, my fingernails (They are short due to being brittle and flaking, not biting), fair weather friends, not being able to clean, being single, hardcore gamers, people that assume that I support nuclear warfare just because I will one day work with nuclear reactors (thats not how it works people! Get a clue!) RANDOM ADDS. If you random add me, you will be deleted and possibly shitlisted... Guys that say they wont date fat chicks because they "have standards". You guys are a bunch of twats... Girls that don't pluck their eyebrows. Militant PETA members (Human life is STILL above an animals. And plus I love leather...)
Favorite Music
Faderhead, Combichrist, Angelspit, Otep, Voltaire (the accoustic goth guy), In This Moment, Jesus on Ecstacy, Tantric, Cohead and Cambria, Lacuna Coil, Flogging Molly, Rehab, Apocolyptica, Green Day, Ozzy, Marilyn Manson, The Cruxshadows, Weezer, Astrovamps, Dope Stars Inc., HIM, Slayer, Corvus Corax, Malice Miser, CellDweller. I am forgetting alot of these so I will add them in as I go along.